Forte Tax& Law: Entry to Russia for foreign highly qualified specialists (HQS) under COVID-19 restrictions
HQS currently in Russia may also apply for entry permits
Covid-19 changed our lives in 2020. Many highly qualified specialists (HQS) departed Russia to their home countries in March 2020, hoping to return to Russia already in June 2020.
As worldwide Covid-19 restrictions seem to remain in place month after month, it has become very difficult to enter Russia again, but business does not wait.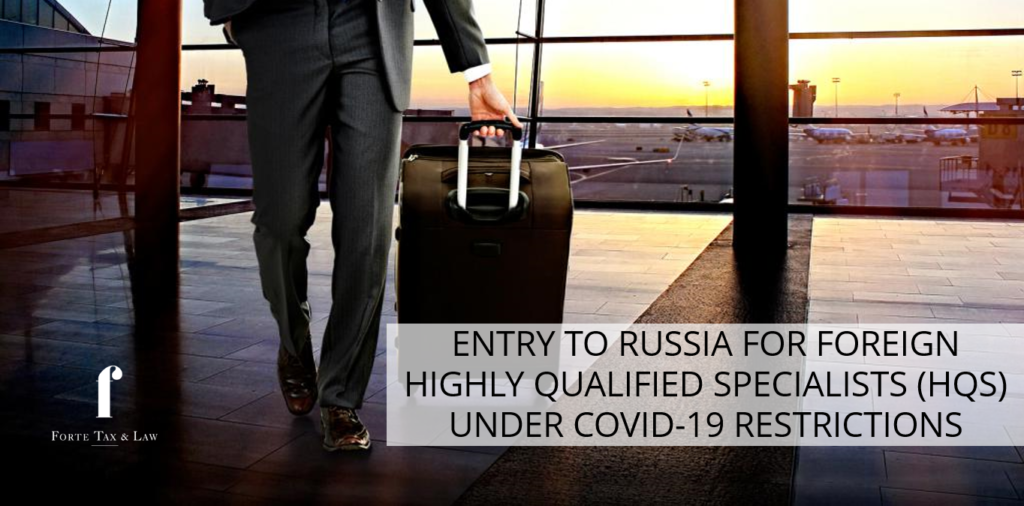 Forte Tax & Law lawyers have been ranked among the best lawyers in Russia, and they look forward to assisting you in returning to Russia.
Russian government decrees No. 635 dated March 16, 2020 and No. 1671-p dated June 25, 2020 set out that HQS are allowed to enter Russia.
We offer to HQS a complete return entry package to Russia which entails handling all documentation and negotiations with local authorities. We re-open the door to Russia for you, so you can concentrate on business and leave all the formalities to us. We will return any paid service fee if entry to Russia is declined through our fault. If, however, an HQS does not pass the checks conducted by security bodies, the service fee will not be returned.
YOUR COMPLETE RETURN ENTRY PACKAGE TO RUSSIA:  690 EUROS (+VAT if applicable)
Documentation collection and processing
Documentation guidelines
Negotiations with local authorities
Follow up until document issuance (last stage)
Monitoring legislation changes
Official schedule for local authorities to issue a permit to entry for Russia: 20-30 days
NOTE: Local authorities will consider only foreign nationals holding a valid highly qualified specialist visa
We advise not to delay your entry to Russia in view of the continuously changing entry legislation and restrictions in Russia. Your presence is needed.
A double-entry option could also be arranged separately.
Call or send us an e-mail already now and secure a safe return to Russia after your holidays.
Anne Rossinen
Project Director
anne.rossinen@fortetaxandlaw.com
+7 921 948 62 85, +358-40-842 8067
---
Julia Talagaeva
Senior Associate
julia.talagaeva@fortetaxandlaw.com
+7 921 567 17 18
---
Mika Kokkonen
General Director
mika.kokkonen@fortetaxandlaw.com
+7 921 948 43 12